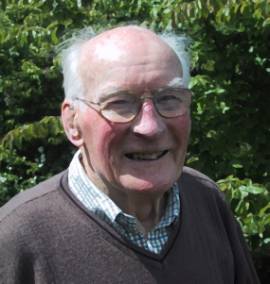 John McWhirter joined the Alpine Garden Society in the mid 1970's, and has been an active and enthusiastic member of the Ulster Group ever since. His organisational flair and friendly personality made him an obvious successor to Mrs Marjorie Watts, when she decided to stand down as secretary in 1978.
John's main priorities upon assuming this role were two-fold. Firstly, to increase the Group's membership, but also and perhaps even more importantly, to bring a friendly and informal atmosphere to all the Group meetings and other activities. To this end. one of the most effective measures to be introduced by him was the wearing by members, of name badges.
Another area where his attention to detail would become very evident, was in the planning and preparation for visits to gardens. No matter where the garden to be visited was located, John always made it his business to make the trip himself beforehand, so that all the logistics involved, right down to the smallest details, were meticulously accounted for, thus ensuring that the outing went like clockwork.
After sixteen very successful years as Group Secretary, John decided, in 1994 to relinquish the position, although he had no intention yet, of being "put out to grass"!
His enthusiasm for the Society and gardening in general has not diminished in the least. He rarely misses a meeting or Show, and his generosity with his time, his knowledge and especially his plants, is well known and appreciated by his many friends in the gardening world. Indeed the esteem in which he is held was acknowledged by his peers, in November last year (2003) when members of the Dublin Group and the Ulster Group met together for the annual Termonfeckin weekend. On the occasion all present joined in the celebration of his 90th birthday.
As well as continuing to actively maintain his garden, other interests and challenges are enthusiastically embraced by this indefatigable nonagenarian. He has just had his computer upgraded for the third time and has taken to email like a natural. His zest for life, and forthcoming hip replacement should see him striding confidently on to his century. I am sure we would all wish it so.